kilgors services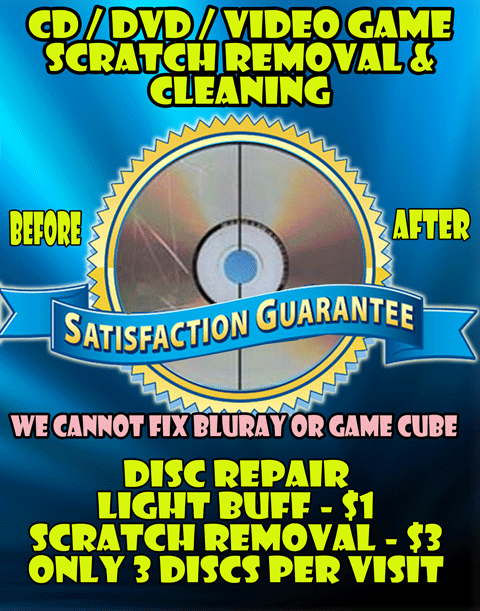 Disc cleaning
We provide cleaning and scratch removal of DVD's, CD's, most Video Game Formats. PS3 and Blu-Ray discs once scratched CANNOT be repaired We charge $1 for quick buffing and $2 for grinding and buffing. When bringing in discs to be cleaned remember we will only clean 3 at one time.
special orders
Have a special Album or Video you are looking for? Can't find it anywhere? Come to us and we will do our best to find it for you and order it.
Looking fora New Released Vinyl? Just ask, you can also write it on our Special Request list. just list it, tell us what format (CD, DVD, Vinyl) and if we can get it from our distributor, for a reasonable price, then we will. Check the list to see if we found it and ordered it.
If you want to Special Order an item and have us hold it for you, then we require a deposit. Special Orders take generally 7-10 days to arrive. A deposit of $5.00 is required for each order and no more than 3 items at a time. We charge $1 to place the order. Customer is responsible for shipping costs.
We love to hear from you and would like to know what you would like to find in the store. Always let us know, what you might be looking for. Stickers, buttons, Vinyl, CD's, we listen and order everythiing we can find.