RECORD STORE DAY - BLACK FRIDAY
NOVEMBER 24TH, 2017
Here we go again!!! Celebrating Black Friday, 2017.
We have ordered many of the special releases. Plan for a big sale, we will not dissapoint.
Here is a list of what has been ordered.
1. Clutch - Pitchfork & Lost Needles - Picture Disc LP
2. INSANE CLOWN POSSE - GREAT MILENKO:20TH ANNIVERSARY EDITION
3.J. DILLA - DILLA DELIGHTS 1 & 2
4. THREE 6 MAFIA - CHPT 2:WORLD DOMINATION
5. PRODIGY - KEEP IT THORO - 2X LP
6. JANIS JOPLIN - GREATEST HITS - TYE/DYE VINYL - LP
7. DOORS - ABSOLUTELY LIVE - MIDNIGHT BLUE - LP
8. GORILLAZ - HUMANZ - 2X PICTURE DISC - LP
9. JOHN LEE HOOKER - BLACK NIGHT IS FALLING - LP
10. NOTORIUS B.I.G. - HYPNOTIZE - BLACK/ORANGE VINYL - 12"
11. DEATH ROW RECORDS - VARIOUS ARTISTS - CHRISTMAS ON DEATH ROW - LP
12. NEIL YOUNG - HARVEST MOON - LP
13. CHEAP TRICK - CHRISTMAS / CHRISTMAS - HOLIDAY LP
14. SUBLIME - 40OZ OF FREEDOM - 2X PICTURE DISC
15. ANTHRAX - CARRY ON WAYWORD SON - SHAPE PICTURE DISC - 12"
16. BARONESS - MORNINGSTAR - 12" PICTURE DISC
17. BARONESS - TRY TO DISAPPEAR - 12" PICTURE DISC
18. THE BAROQUES - MONO REISSUE LP
19. KID CUDI - PASSION, PAIN & DEMON SLAYIN - LP
20. PAUL McCARTNEY - WONDERFUL CHRISMASTIME - RED VINYL - 45RPM - 7"
21. PAUL McCARTNEY - WONDERFUL CHRISMASTIME - GREEN VINYL - 45RPM - 7"
22. PONCIER - CHRIS CORNELL - LP
23. OTIS REDDING - LIVE IN EUROPE - LP
24. SNOOP DOG - NEVA LEFT - LP
25. GARAGE DAYZ - VARIOUS ARTISTS - GREEN/BLACK SWIRL - 2X LP
26. MUDDY WATERS - BEST OF - LP
There are some new releases being issued for Black Friday we are working on, Stay-Tuned.

RECORD STORE DAY - 2017
You Came, You Saw, You Conquered. We will remember this day. Even with the limited supply of RSD items, the mood was festive, the store was full and everyone enjoyed the whole vibe. We would like to thank everyone who came and took home a memory. So many new faces and soon to be familiar customers. Thank You one and all.
RSD - 2017 - Leftovers
rECORD STORE DAY - april 16th, 2016
2016 was our 2nd year carrying new releases. We doubled our inventory and the crowds came and bought. We thank all of you, especially the ones who were in the line to get in. As they saw, we doubled the size of our new release section. This allowed many more people to be able to see and purchase the many great albums for sale. We did find out a lot more of what you are looking for and be assured, we lsitened. We had plenty of the great 2016 cloth bags to give away, posters and many other great items.
For the first time we sold more new than used products, which represents a major shift in our sales. We have always welcomed the Vinyl, Record, LP, Album market and will continue. Next year RSD 2017 will be one, not to miss.
YOUR RSD 2016 CREW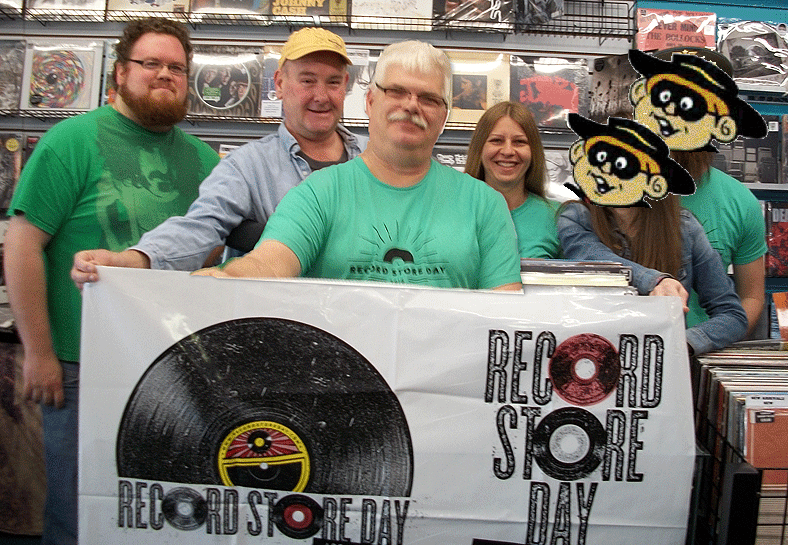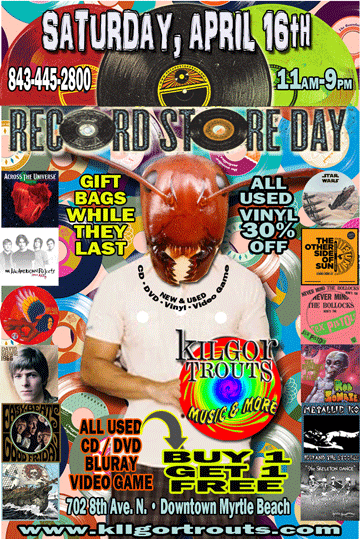 record Store Day April 2015
What a tremendous turnout we had. A line of people 50 strong, waiting to get a great deal and snag a collectible. We want to thank everyone for showing up and helping us celebrate our biggest day of the year. We enjoyed all the great smiles, conversation and enlightened comradery.
Again...Thanks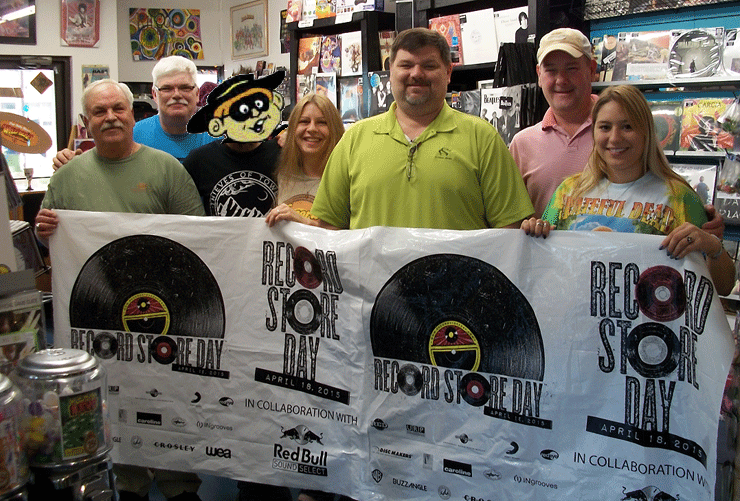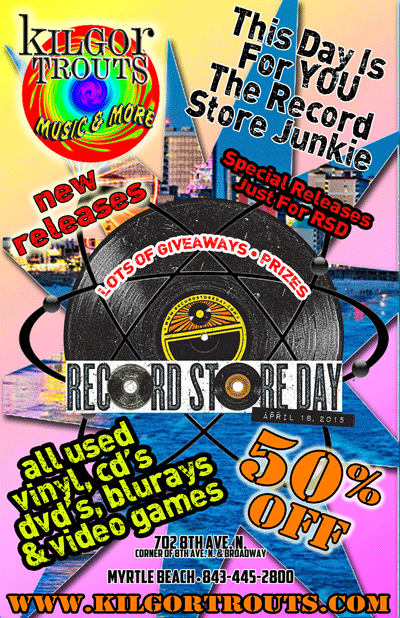 RSD 2014 Crew