general wierdness
Shopping at Kilgors is like another world. If it's weird enough we will sell it!!! People ask "where do you get this stuff?" It all walks in the door, brought in by everyday people like yourself. Collectibles, Local Art, Creative Adventures, Masks, Evil Clowns, Lamps and Knick Knacks.
At Kilgors we have a very eklektic sense of being. We buy unusual items, hippie style collectibles, general wierdness. You will find a variety of unusual games, collectibles, posters, clothing, art, toys, you name it. If you have a collection or just a few pieces that you would like to move on to others, bring them by and let's see if it fits.
In this category we have various items that are part of the general wierdness we call....the world.
POSTERS
We now carry first quality posters. $3-$8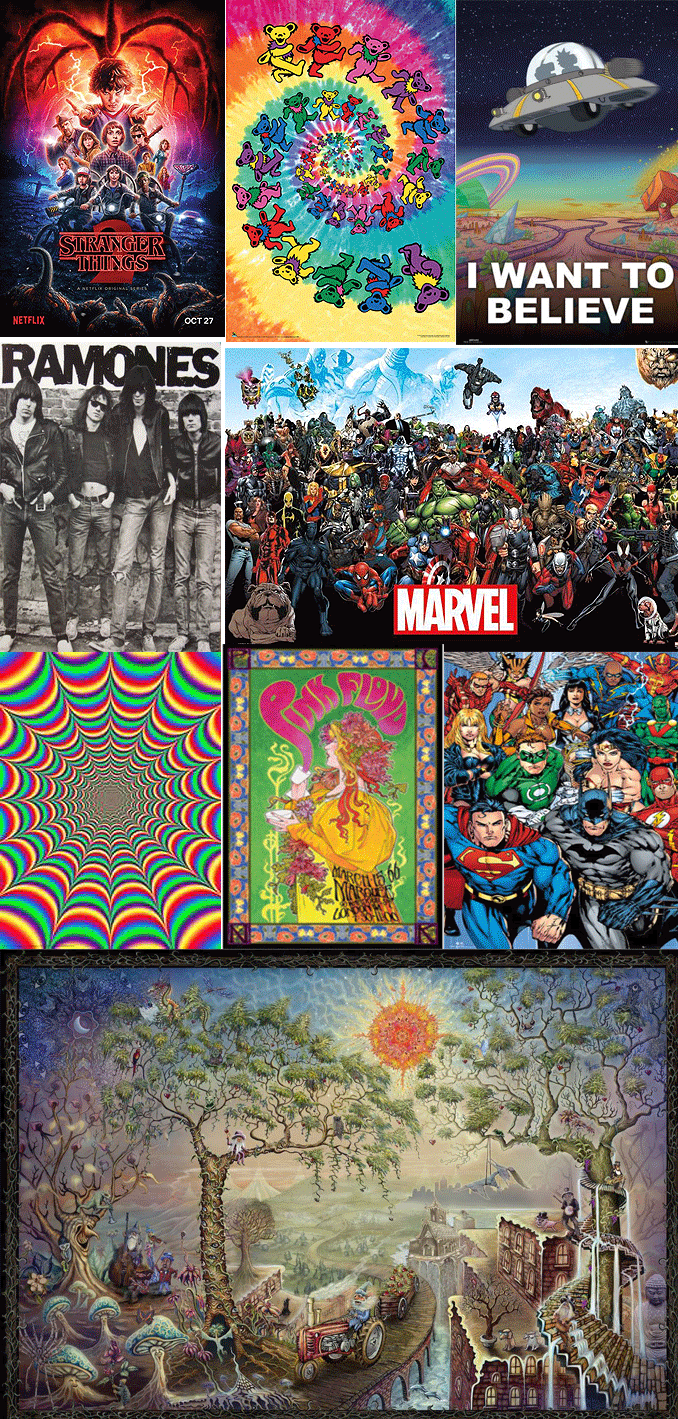 Incense
We carry the finest in High Quality Incense. You can purchase a few sticks or several hundred, depending on your needs.
Our selection of Wild Berry Incense is full of energy, variety and the pleasure of scent. Wild Berry is sold in open jars, you can buy a few of your favorite or buy a variety of scents. These sticks burn evenly and leave a fine, easy scent.
Nag-Champa Incense is manufactured by several companies aound the world. We carry the Nag-Champa Spa brand. A very pleasant scent, Nag Champa is not overpowering but will leave a calm, aroma in it's wake. Nag champa is an Indian scent that is famously used in incense, although it also appears in soaps, lotions, perfumed oils, and candles, among other things. Many people think of this scent when they think of incense, since the odor is so ubiquitous, and it is quite popular among many people all over the world. It is especially closely associated with the hippie counterculture community, since many people traveled to India in the 1960s, where they acquired a taste for its distinctive smell.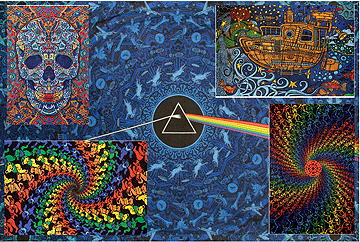 tapestries
Sometimes decorating can be costly, but putting an inexpensive tapestry on the wall or ceiling is easy and when you see how it enhances your living space, you will be thrilled. Got an old chair or couch, hate the color or stains? We got many tapestries that are actually big enough to cover it, change it, make it nice and usuable, once again. For under $30 you could change your life, well not that dramatic, but isn't it a lot calmer to come home to a nicely recovered couch, than that old 80's pattern, which never semmed to match anything? Live in a rented place or a dorm? Well, with one or 2 of these tapestries on the wall, no painting neccessary, no change to the walls and you will get that deposit back. Just hang a wonderful tapestry and change the mood of the whole room. Full of color, some are actually 3-D (with glasses - supplied), various subjects, including the Grateful Dead & Pink Floyd. Stop in, take a look and start creating that new space.

sarongs
Sometimes you don't need a large piece of cloth to serve your purpose. Sarongs are a casual, smaller cloth, which is not as heavily decorated. Swirling blues, solid greens & yellows. Want to make that lamp more ambient, instead of blinding? Put a sarong over the shade and make a quiet statement. Also useful as a beach coverup, or a...Sarong!!! These are designed as loose wrap-skirts for women (or men who are so inclined) to wear as casual atire. These are made of a silky rayon and feel good to wear. Just tie one on and skoot out the door.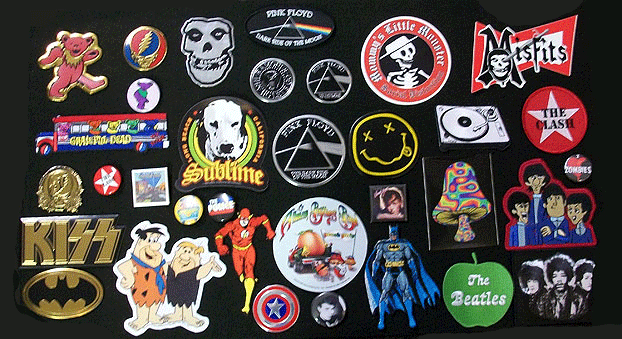 stickers-patches-buttons
Nothing brings out the personality of your possessions like a sticker, button or patch. From great Rock Bands to Political Comment, we have the right one for you. Looking for a certain band and we don't have it? Just ask, if we can get it, we will. 100's of S-P-B's here and it changes every month or so. Brightly colored and clean, they won't fade in the sun, so, YEA, stick one on the car. Wonderful, metalized stickers in chrome and gold, "Oh Look Something Shiny". Kilgors IS THE PLACE for that special cloth patch of your fav Punk band, or just well made embroidered patches of many bands. If Variety is Spice, then we can help you cook up a super-showy jacket, laptop or refridgerator.
original - authentic paintings by Savannah, GA. artist Alix Baptiste